News
News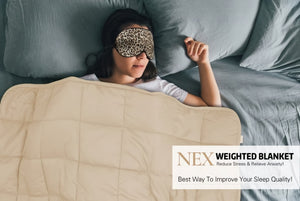 Oberon Distribution Teams with Target.com and Launch New HAITRAL NEX Weighted Blanket 14
Oberon Distribution Inc., a product distribution company based in California, has just announced its new channel partnership with Target.com, a leading online distribution company that specializes in home goods. The Haitral Brand NEX series weighted blanket, one of Oberon Distributions best-selling product now available in Target.com
The Haitral NEX weighted blankets is not just any ordinary blanket. It has lots of research, development, and science behind its back. The blanket uses something called deep touch pressure (DTP), which produces a calming and relaxing sensation for the user, that increases the production of Serotonin. Serotonin is the chemical associated with relaxation and is essential when trying to achieve a better sleep.
The NEX weighted blanket also uses a box stitching method, which is a unique design used to divide the warm blanket into smaller compartments. Doing so allows for an even distribution of glass beads throughout this warm blanket. The weighted blanket is produced with only the best quality materials, comprising of 100% natural cotton and hypo-allergenic, non-toxic glass beads so that every inch of this blanket feels as if it produced with meaning. All Haitral NEX blankets go through quality control and have been clinically tested to help provide users with the perfect sleep.
Product links:
https://www.target.com/p/40-x-60-100-cotton-luxury-weighted-blanket-nex/-/A-78135959?preselect=77678156#lnk=sametab
https://www.target.com/p/60-x-80-100-cotton-luxury-weighted-blanket-nex/-/A-78135964?preselect=77765169#lnk=sametab
https://www.target.com/p/48-x-72-100-cotton-luxury-weighted-blanket-nex/-/A-78135966?preselect=77766603#lnk=sametab
About Oberon Distribution
Established in 2015, Oberon Distribution has been servicing companies around the world with brand and product launches in the North American market through online and office line channels. Oberon Distribution's select private brand, Haitral, is one of their best-selling brands that specializes in home goods. Haitral produces only the most elegant products for those who are looking for a modern touch on ordinary home goods. Through masterful craftsmanship and intense quality control, Haitral ensures that consumers receive only the best products in the market for the user best experience.
Media Contact
Company Name: Chris & Ting Consultant Inc
Contact Person: Christine Yu
Email: Send Email
Phone: 626-822-8588
Country: United States
Website: www.oberondistribution.com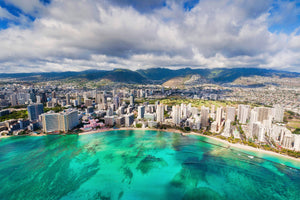 The Best Snorkeling Spots in Oahu 14
By far the most popular island, Oahu (known as "The Gathering Place") is the third-largest of the eight Hawaiian Islands. With crystal clear waters and average surface water temperatures of 75-80°F, it is no doubt that snorkeling is among one of the most popular activities to do in Oahu. The abundance of sea life is teeming with colorful fish, tropical sea turtles, and other exotic ocean creatures. Best of all, you will never need a wet suit to enjoy the beautiful underwater adventure.
Before you get antsy and dive straight into the waters it is always important to know your surroundings and to pay attention to the lifeguards. Ocean tides can frequently change, and venturing too far alone can also lead to potential dangers. Worst case scenario, if you're unsure if you should be in the waters then simply ask the lifeguard, ask some local Hawaiians, or use your common sense. With that said, we bring you our top 5 locations to snorkel in Oahu.
Hanauma Bay
Hanauma Bay is a protected marine life conservation area managed by the State of Hawaii. Home to over 400 different species of fish, including its abundance of Green sea turtles, you can find this beach on the southeast side of Oahu. There is a $7.50 entrance fee for visitors (proceeds goes towards the conservation); however it is free for residents, military personnel, and children under 12. Hanauma Bay is a very popular tourist spot so we suggest you arrive earlier than later to avoid peek hours. There are plenty of snorkeling equipment rentals as well as lockers so you can keep your belongings safe. If you can, we recommend you bring your own snorkeling equipment so that you won't have to share or worry about spending some extra money. If you're a beginner snorkeler then this spot is perfect for you, as there are plenty of fish to see without having to venture out too far into the ocean. Keep an eye out for the state fish -- humuhumunukunukuapua'a -- as well as sea turtles, parrot fishes, and more.
Shark's Cove
Most likely the most popular spot on the North shore, Shark's Cove was rated by Scuba Diving Magazine as one of the "Top Twelve Shore Dives in the World". Snorkelers come from around the world and give praise to its great shore snorkeling. With visible, calm waters and just as much marine life as Hanauma Bay, snorkeling at Sharks' Cove is best during the summer. This is because it can get a bit crowded during the fall and spring season when surfing is popular. During surf season, the currents are stronger and can dangerous for beginner snorkelers, so if you are new to snorkeling then summer is the perfect time for you. Also despite the name, you won't have to worry about seeing any dangerous shark's at this wonderful cove.
Three Tables
Similar to Hanauma Bay, this spot is ideal for beginner snorkelers or those with little experience. The name comes from the table-like coral formations right at the front of the beach, which is where you will be snorkeling! There's not much protection at this bay so be careful of big waves and surge. Some common fish you may see are coris yellowstripe, sergeant, eel, brighteye, and plenty more. This location is fairly close to Shark's Cove, so if you're looking to switch up the snorkeling spot then simply drive half a mile northeast on Hwy 83 to Shark's Cove.
Queens Beach / Sans Souci Beach
Relatively safe, easy access, and in town, Sans Souci Beach is the perfect place to find some beautiful tropical fish. In terms of snorkeling, this area will be less crowded than Hanauma Bay, and during high tide you can even swim over the shallow flat reef to explore the corals and small fish. However, if it is high tide we advise you to go someplace else, as it may be a bit difficult to observe sea life. Conveniently enough this beach is also located near other Waikiki attractions, such as the Honolulu Zoo, Waikiki Aquarium, as well as the city itself. 
Kahe Point Beach Park
The perfect spot for both snorkeling and diving, Kahe Point Beach Park (also known as "Electric Beach" because of the nearby power plant) is suited for more intermediate to advanced swimmers. Located on the west side of Oahu, the currents tend to be stronger than usual and there are no lifeguards on duty, so if you do plan to go here make sure you are comfortable in waters. Here you will see many turtles, small sharks, fish, and even dolphins, which is why this spot is so popular for scuba diving as well as spearfishing.